1. Purpose
The purpose of this procedure is to ensure that all corrective and preventive maintenance activities are carried out as per applicable international best practices in order to achieve maximum customer satisfaction with minimum adverse impact on environment, health and safety of both employees and end users, operators and community.
Also to ensure that all plants and equipment are efficiently operating and continuous reduction is observed in faults/complaints where appropriate.
2. Scope of Work
This procedure is applicable to all projects for the defect liability period and direct maintenance contracts.
3. Abbreviations
MM      Maintenance Manager
ME      Maintenance Engineer
FM      Facility management
4. Roles and Responsibilities
Maintenance Manager
Build a well-operated maintenance team.
Assist and supervise maintenance team to handle all maintenance works.
Maintain and manage highly automated office equipment.
Maintain efficiency levels.
Prepare maintenance program and budget.
Initiate spare parts planning and second sourcing.
Support staff and personnel to improve output achievements.
Review and evaluate maintenance operations.
Improvise maintenance operations to save on costs and work time.
Implement best practices, standards and procedures in all maintenance functionalities.
Maintenance Engineer
Adopt and implement a detailed maintenance plan, which is designed to minimize if not eliminate all unplanned equipment outages;
Recruit, train and supervise a sufficiently large staff of competent equipment maintenance technicians, workers & supervisors
Inventory, inspect, monitor, document and report the cost and performance of each piece of equipment;
Maintain an inventory of requirement spare parts and supplies, as required to minimize back-order and delivery down-time;
Perform routine maintenance
Undertake emergency repairs effectively and efficiently to minimize time lost due to unanticipated equipment outages during construction activities.
5. MANAGEMENT OF MAINTENANCE PROGRAM AND PROCEDURE
5.1 Project Handing Over
5.1.1 Construction Projects
On completion of the construction projects, maintenance department is responsible to maintain all equipment/systems during the defect liability period.
Formal handing over of the project is documented from project manager to maintenance manager using the project handing over checklist along with the following documents (both printed and soft copies for each):
As Built drawings
Operation & Maintenance Manuals
Testing & commissioning reports
Snag Lists if any.
Maintenance manager assigns proper resources i.e. maintenance engineer/technician depending upon the size of the project, same is also documented on the project handing over checklist referenced above.  
5.1.2 Direct Maintenance Contracts
Company is having maintenance projects covered by facility management or maintenance division. A group of engineers, supervisors and technicians are assigned for these activities with proper training and guidance.
After receiving maintenance complaint from client/end user in maintenance call center, facility manager will inform to the concern engineer to take action.
Concerned engineer will take immediate action with his team.
Prior to the action the team shall get the work permit from concern authority if it applicable.
After completion of work supervisor shall collect the approval on maintenance service report from client representative and complete entry in complaint register.
5.1.3 On Call Maintenance Services
Following is the procedure for on call maintenance:
Register maintenance work after receiving the call on call center
Confirm the location of the work and route map
Inform the in charge /engineer about the work and expected work duration
Arrange the tool kit and safety requirements for the work
Select the team for said work and keep another team for emergency work if applicable
Reach the site as early as possible
Report the concern person in the site
Collect the drawing related to the said work
Do the work as per the method of statement?
Take details of parts which replaced /or need to be replaced
Get approval from site in charge on maintenance report about the said work
Remove the safety barricade and collect the tools.
Inform to the engineer/ in-charge/ main office before you leave the location.
Make the necessary report/documentation of the work
5.2 Preventive Maintenance Project Planning
Once the project handing over is completed it is responsibility of maintenance manager to prepare the preventive maintenance plan specific to the project in compliance with manufacturer recommendations and as per client requirements. In case of maintenance contract if the maintenance plan is provided by client's maintenance team the same should be followed.
It is responsibility of maintenance engineer/supervisor to generate documented evidences whenever preventive maintenance activities are performed.
For receiving the routine complaints a dedicated telephone number as a hotline is provided to all clients/end users where they can register
Maintenance Complaint Handling
For performing Maintenance engineering operations, staff/labors are instructed to perform execution activities as per the written procedures. In case of labor it is sole responsibility of SE/Supervisor/Foreman to explain these written procedures to the concerned personnel. Standard maintenance procedures are made available where appropriate.
These SOP's explain:
Scope and responsibility of the job.
How to execute the job.
Use of suitable equipment/instrument/machine and material.
Inspection and testing requirements.
HSE hazards involved in the job and their control measures.
5.3 Maintenance Project Execution processes
MM, and ME are responsible for identification and planning of Maintenance operations and activities which are associated with project/product quality and significant HSE risks.
Based upon identified quality parameters and HSE risks, required documents such as engineering procedures, SOPs/work instructions/ method statements are prepared, to control these operations, so that deviation from policy, objectives and targets can be avoided. Where required, health & safety risks and environmental impacts of goods and services provided to the company are, identified and applicable procedures communicated to suppliers including contractors.
Execution of Maintenance works are as follows:
Planning and Scheduling
Pre-trip inspection to identify maintenance job
Preparing snag Lists for the project
Identifying maintenance schedule for each items installed
Setting up hotline for any maintenance complain
Maintenance store setup for any backup
Assigning engineers and supervisors for maintenance project
Preparing required documents for the maintenance works
Root cause analysis to identify the cause of a discrepancy or deviation and suggest corrective actions to potentially prevent recurrence of a similar problem, or preventive action to ensure that discrepancies do not occur.
Remedial corrections of a problem which is identified
5.3.1 Procedure Explained
After the handing over of the project from construction to maintenance team, hotline is setup at the head office to lodge any complaints from the clients.
After receiving the breakdown complaint by the relevant department, it will be sent to the maintenance manager who will then assign a supervisor to attend the fault.
Once the team is setup the fault is rectified and a report prepared which is then reviewed by the Maintenance manager who eventually closes the job.
Root cause analysis is done by the concerned engineer to identify the main root problems for the fault to avoid future maintenance problems.
5.4. Types of Maintenance Works / Procedures
There are two types of maintenance procedures:
Preventive maintenance: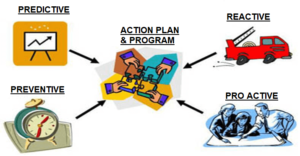 This type of maintenance is conducted to keep equipment working and/or extend the life of the equipment.
Preventive maintenance is generally considered to include both condition-monitoring and life-extending tasks which are scheduled at regular intervals.
Some tasks, such as temperature and vibration measurements, must be done while the equipment is operating and others, such as internal cleaning, must be done while the equipment is shut down.
Predictive maintenance:
This type of maintenance is useful for the prevention of equipment or machine break down by predicting the maintenance activities by experience.
Predictive maintenance shall be done through proper checklist with approved method statement.
These activities can be done even without breaking the operation of the machine. It is best practice to follow up the manufacturer's recommendations while operating the equipment/system/machine.
Lubrication, proper cooling, alternative rotation of operation etc. will come under these type of maintenance activities.
Corrective maintenance:
Sometimes called "repair" is conducted to get equipment working again and is defined as maintenance work which involves the repair or replacement of components which have failed or broken down.
For failure modes which lend themselves to condition monitoring, corrective maintenance should be the result of a regular inspection which identifies the failure in time for corrective maintenance to be planned and scheduled, then performed during a routine plant outage.
After doing the corrective maintenance, inspect the equipment to identify the reason for the failure and implement the necessary action to to eliminate or reduce the frequency of future similar failures.
Over all work plan covers these inspections.
5.5. Final Handing over of the Maintenance Project
After completion of the project duration, collect the snag list from client/consultant and by considering time duration for completion of snags.
Maintenance manager assigns the job to concerned engineer to complete the job with client/consultant approval.
Maintenance manager shall collect the signature from client for successful handing over of the project.
Thereafter de-mobilization of team, tools, equipment shall start.
5.6 HSE Practices During Maintenance Works
Always give top priority to environment, health and safety during the all kind of maintenance works.
Company shall display and highlight the slogan of "SAFETY FIRST" in all working areas.
Make sure that each employee before start of the work familiarizes with the HSE hazards in relation to his job and applicable control measures and safety precautions.
Necessary PPE's are provided and it is responsibility of each employee to abide by all HSE instructions.
All critical activities related with significant health & safety hazards and environmental aspects carried out during the work at sites, are monitored according to their respective procedures and recorded on relevant documents
6. RELATED DOCUMENTS AND RECORDS
Standard Maintenance Procedures
Forms, registers and reports referenced in procedures
Risk Assessments or Job Safety Analysis
Below is a sample format of complaint handling and recording register.