THIS EQUIPMENT MUST BE OPERATED AND MAINTAINED ONLY BY AUTHORIZED PERSONNEL WHO HAVE READ AND UNDERSTAND THE OPERATOR'S MANUAL, HAVE BEEN TRAINED IN ITS USE, AND FOLLOWING ANY AND ALL APPLICABLE SAFETY PROCEDURES.
TO PREVENT SERIOUS INJURY OR DEATH:
FOLLOW LOCK OUT PROCEDURES BEFORE SERVICING:
LOCK OUT POWER WITH PADLOCK FOR WHICH ONLY YOU HAVE THE KEY.
Follow the maintenance schedule below to extend the lifetime of your machine and decrease overall operating costs at your plant.
Frequent visual inspections of the liquid/solid separation process and mechanical operation of the unit should be performed on a regular basis.
A visual check for proper liquid/solid separation should be conducted at least once per operating shift. More frequent observation may be needed, depending on the specific application. (See page 5-5 of the IOM Manual.)
Daily Maintenance / Inspections
General Visual Inspection:
Verify proper flow distribution to the screen cylinder and that no obstructions are present. Check that liquid/solid separation is taking place and that the solids are being transported to the solids discharge point. Confirm rotation of screen is smooth and no flat spots on trunnion wheels or cylinder exist.
Inspect and Lubricate Chain:
Inspect the operation of the chain relative to the drive and driven sprocket. It is recommended that the chain be lubricated once every 24 hours of operation. Reference Lubrication Chart (page 5-6)
Inspect and Lubricate Trunnion Wheels:
Check to verify trunnion wheels are rotating smoothly. Grease the trunnion wheels with 2 to 3 pumps from a grease gun. In applications where the sludge contains high grit, grease the trunnion wheels once per shift to keep sand out of the bearing raceways.
Cleaning:
Rinse accumulated solids off unit. Make sure rotary drum screen is clean after shutdown. The rotary drum wire screen must be kept free of dried sludge. Dried sludge will blind the screen and be difficult to remove. For shutdowns less than three hours (shorter where conditions dry the sludge faster), the ThickTech unit can be stopped without going through the clean up procedure outlined in the Unit Operations section of the manual. Clean other components as needed.
Inspect Spray Nozzles:
Visually check to confirm that nozzles are clear and produce proper spray pattern on the screen. Where plant water is used, the spray nozzles may need to be checked more often.
If nozzle blockage is discovered, cleaning the spray header is accomplished by turning the spray header handwheel. Turning the handwheel rotates wire brushes inside the spray header that sweep solids clear of the spray nozzles.
Simultaneously, turning the handwheel opens the valve at the end of the spray header allowing the water and solids to bypass the nozzles and discharge into the return water tank or discharge end enclosure. Leave the bypass valve open for at least 15 seconds to ensure all solids have been discharged.
Weekly Maintenance of Rotary Drum Thickener
Inspect screens for solids or damage:
Inspect screens for solids blinding especially in applications involving large amounts of grease. If necessary, wash screens with a high-pressure sprayer. Inspect screens for tears or damage, if replacement is needed refer to page 6-4 of the IOM.
Clean interior of equipment:
Remove all spray panels and wash off their inside surfaces. Clean out the inlet flume running from the flock tank to the rotary drum, and wash all solids from the step down header at the end of the inlet flume. Drain the flock tank and wash all solids from the bottom and off the flock drive paddles.
Monthly Checks and Maintenance
Check Gear Reducer Oil Levels: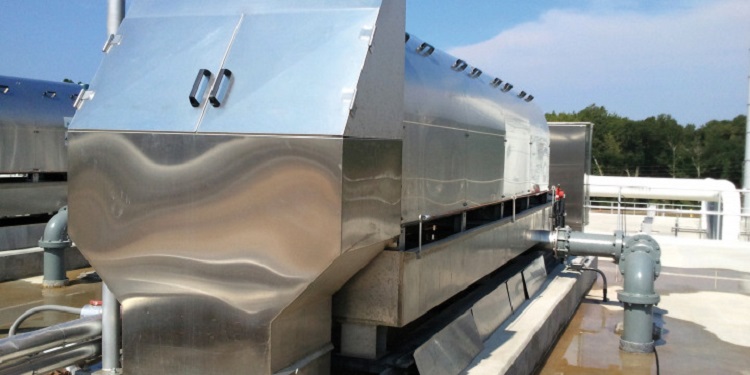 Remove the oil level plugs in reducers and check oil level. If necessary, add oil to bring to proper level.
Inspect Drum Cylinder:
Visually check for any damage or holes in the screen on the drum cylinder.
Inspect Chain, Drive, Driven and Tensioner (Idler) Sprockets:
The chain drives typically need periodic tightening. The chain drive has been provided with a chain-tensioning sprocket to take up any slack as the chain wears. Verify proper engagement of chain into sprockets and check for wear of sprockets.
Inspect Trunnion and Stabilizer Wheels:
Visually inspect support trunnion wheels and bearings for misalignment and excessive wear.
The outside diameter of the wheel should never be less than 7.50" on the RDT 200, 300, and 400 units.
On the RDT 50, 100, and 150 units the wheel diameter should never be less than 5.75".
Allowing the wheel to wear to an unacceptable diameter will result in severe rotary drum damage. Adjust or replace if necessary. Lubricate per daily requirements.
The support wheels are UHMW polyethylene with stainless steel sleeve and ball bearings.
Inspect the horizontal stabilizer wheels for misalignment and excessive wear.
The bushing inside diameter should not exceed 0.56". The horizontal stabilizer wheels do not require lubrication. The horizontal wheels are stainless steel with oil impregnated bronze bushings. Replace if necessary.
Semi-Annual Maintenance
Check Gear Reducer Output Shafts:
Check gear reducer output shafts of drum and flock drives for abnormal play.
Annually:
Inspect Solenoid Valve (Where Applicable):
Inspect inlet spray wash inlet solenoid valve for proper operation.
Change Oil in Gear Reducers:
Refer to Lubrication Chart (page 5-6) for proper lubrication requirements and Section Nine – C. for further gearmotor drive information.
Gear Reducer Bearing Lubrication:
Bearings are grease-packed at the factory and are to be cleaned and re-greased as required. Grease packed bearings should be cleaned and re-greased every 10,000 hours or 20,000 hours for synthetic grease. Input (high speed) bearings should not be over-greased. They should be filled with grease not to exceed 1/3 of the bearing's free volume. For output bearings, fill to 2/3 of their free volume.
Refer to Lubrication Chart for proper lubrication requirements and Section Nine – C. for further gearmotor drive information.
Inspect and Clean Unit:
Drain the flock tank, flush and clean unit as required. Inspect the unit thoroughly and repair or replace damaged or worn parts as necessary.
Clean and Re-lubricate Chain:
Remove all excess lubrication and debris from the chain and re-lubricate.
Inspect drive and driven sprockets for wear and possible replacement. Refer to Lubrication Chart for proper lubricant.
Wash water Booster Pump Lubrication:
No lubrication is required for the liquid end of any Burks pump. Motors are equipped with ball bearings that are grease-packed and sealed at the factory.
No additional lubrication is required. Base-mounted pumps have ball bearings in the Power Frame Assembly that are grease-packed at the factory and have provisions for re-lubrication as required. For continuous operation, lubricate annually.
For intermittent operation, lubricate every two years.
Do not over lubricate.
Refer to Lubrication Chart for proper lubricant. See Component Data in Section Nine – A. for more information.