Purpose
This method will help to establish a standard procedure for the proper copper pipe cutting and using the right tools for the maintenance job. The procedure will also serve as guideline for newly hired employee which will be dealing with Air conditioning unit maintenance activities.
Scope
The scope of this standard maintenance procedure covers the work related to all equipment's which require cutting of copper pipes used for refrigeration and air conditioning piping system.
Responsibilities
It is the responsibility of the air conditioning or HVAC maintenance technician to properly use the right tool in cutting soft-drawn and hard-drawn copper pipes. He should be competent enough to use this equipment to avoid any damage and to provide the proper result. The Supervisor and the site hvac engineer should assure the implementation of this ac maintenance procedure.
Abbreviations
AC: Air-conditioning Units
PPE: Personal Protective Equipment's
Brief Description of Pipe Cutter for Copper Tube
 A pipe cutter is best use to make a straight cut for copper pipes. It comes in single blade and an adjustable lever to provide the proper force while cutting.
Standard Copper Tube / Pipe Cutting Procedure
By using a tube cutter
Prior to the work, wear safety shoes, gloves and goggles.
Prepare copper tube, tube cutter, reamer, sand cloth, brush and hacksaw.
Make measurements to the desired length of the pipe.
Mark the pipe where cutting is to be done.
Insert the copper pipe inside the cutting tool.
Hold the pipe properly to produce a good result.
Adjust the lever until the blade touches the pipe.
Using a counter clockwise direction, move the pipe cutter by one whole turn until you feel that the blade is starting to cut the pipe. After that, reverse it by clockwise rotation.
While on clockwise turning, adjust the lever from time to time until the pipe is completely cut.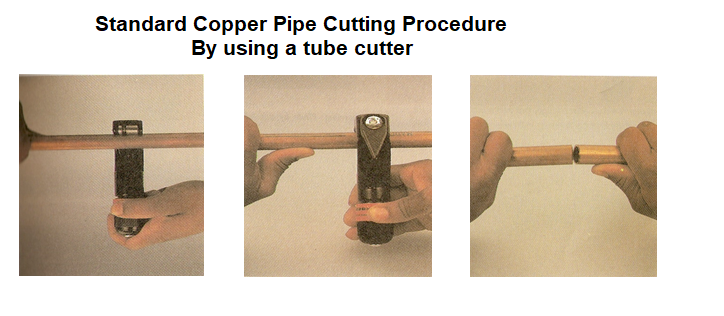 By using a reamer, remove the burrs from the inside of the tube. The burrs must be removed because they restrict the flow of the gas.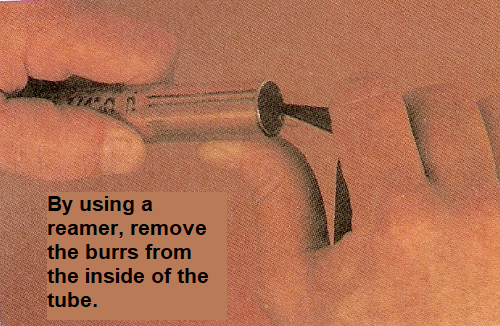 Clean the tube by sand cloth and by brush.

Copper Tube / Pipe Cutting using a Hacksaw 
Prior to the work, make sure the availability and usage of all PPE's, every worker to use basic PPE's like safety shoes, gloves and goggles.
Make measurements as per the requirements for length of the pipe.
Mark the pipe at the place of cutting.
Make the cut at a 90O angle to the tubing.
Use a suitable fixture to ensure an accurate cut.
After cutting, ream the tubing and file the end.
Remove all the chips and fillings, making sure that no debris or metal particles get into the tubing.
References
Refrigeration and Air-conditioning Technology, 3rd Edition By: William C Whitman & William M. Johnson
TESDA Refrigeration and Air-conditioning Manual