In this article we shall get familiarization about the concept of Condition Based Maintenance (CBM). This approach is part of total predictive maintenance.
The CBM Philosophy focuses utilizing the Condition Monitoring technologies to predict the failure patterns of an asset.
This will allow maintenance department to scheduled the activities based on equipment condition and not operation time.
Purpose and benefits of CBM
The vision of condition based monitoring is to attain:
Meaningful set of maintenance schedules (Technical Basis of Maintenance – TBoM)
Improved operating performance
Ensure safety & environmental protection
Reduced maintenance costs
Comprehensive maintenance database (Centralized)
Clearer view of resource requirements CBM attains lasting benefits & can be applied across all or just selected equipment
CBM Methodology
The strategy of conditional monitoring uses a two level approach by overlaying  techniques & technologies on monitored components.
Level one (Short term): Identify and reduce equipment failures across site. It uses technologies to troubleshoot and examine poor performing assets i.e. Energy usage examinations etc.
Level Two (Medium to long term): This method reduces maintenance exam tasks, extends maintenance exams and overhaul periodicities (TBoM integration). Uses technologies to reduce maintenance costs. Effective utilization of work force. Increased knowledge of asset performance and condition. Feedback into TBoM
Condition Based Maintenance Financial Impacts
Easy to Labour Low on services measure Overheads profit Reliability Safety Legislation Design Scrap out Availability Catastrophic Poor failures maintenance Breakdowns & Repairs Use of skills Warranty Low Flexibility Hard to High on measure profit
Application of Condition Based Maintenance
Oil and Grease Analysis- Three dimensions:
Wear
Contamination
Chemistry
Portable Vibration Analysis
What does it monitor?
Imbalance Problems
Mis-alignment Problems
Bearing Problems
Electrical Defects
Where?
Cranes
Air Compressor motors
Brake resistor / Traction cooling fans
HVAC equipment
Alternators
Turbo charger
Gearboxes (wheel lathe)
Electrical motors
Cooling system pumps
Lubrication oil system pumps
Fuel Pumps
Diesel Engine
Axle boxes
Portable Ultrasonic Analysis
What does it monitor?
Air Leak Problems
Electrical Problems
Mechanical Problems
Location?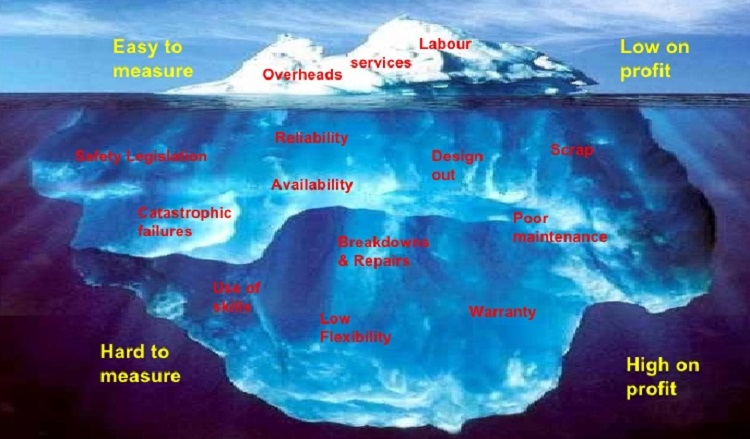 Leak Detection
Valves
Air supply lines
Flexible hoses
Pneumatic systems
Pressurized systems Electrical
Vacuum system problems
Electrical- Arcing Detection
Compressor Mechanical
Steam Traps
Mechanical 
Bearing defects
Lack of Lubrication
Over Lubrication
Portable Thermography Analysis
What does it monitor?
Electrical Problems
Mechanical Problems
Pipework Problems
Problems detected?
Electrical Problems
High resistance connection
Corroded / hot connections
Earth returns – Higher loading
Relay problems
Internal fuse damage
Internal circuit breaker fault
Cracking insulation
Overload or unbalanced load
Busbar faults
Couplings
Cooling jackets